Roadstory News #11
December 2007
I'm writing this edition from Ryderwood, Washington. You'll understand why that is significant later.
In June 2007, Marilyn and I set out from The Ranch for a semi ambitious Summer and Fall trip which would vary from our usual Summer West Coast route. Our initial plan was to head North to Colorado for a few weeks, then meander Southeast to visit my mother in Georgia before we headed up to Washington DC for my first visit there. We would then head back to The Ranch in plenty of time for a medium length stay in nice weather before heading for Baja for a winter of sea kayaking and mountain biking.
But here is how it actually played out. It got hot right away and we cut our visit to the Santa Fe area short, despite finding a highly repeatable Mt. Bike trail, to head for the high country near Gunnison, Colorado. The weather was so nice there, and the reports of the heat so dire in the South that we stayed for six weeks, mainly hiking, fooling with the two websites I had recently authored, polishing the Airstream, and generally enjoying the beautiful Rocky Mountains. We even had a visit from friends and Denver residents Roger and Robin Blakey. Roger is an old NMMI (military school) pal. But eventually we ran out of time and descended into the oven. By the time we arrived in Tulsa to visit harmonica genius David Berntson and his wife Liz in mid August, it was a full blown heat wave... even for the South... even for August. When we hit Memphis the heat index was 110. A half mile walk seemed like an important accomplishment. A woman died in her tent at Graceland.
Georgia was still hot but a little cooler. Mom had been having some health problems and was starting to re-consider my daughter Elka's previous offer to care for her in her home in Vancouver Washington. Elka is a stay-at-home mom to my two grand daughters, Elaina and Lillian, and a registered nurse as well. But Mom wasn't quite ready to make the move, so after seeing her through some doctor visits, Marilyn and I headed for DC pretty much on schedule.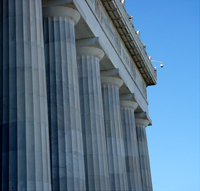 DC was a fun though expensive visit and we saw monuments, museums, historical buildings, friends Dave and Sally Davis, Paul Martin, my cousin Steve Howard and attended a freethinker conference. But 10 days hardly scratches the surface of the "must dos" of DC. Only those who live there really get to see it all.
After DC we hurried down to Helena, Arkansas for the recently renamed Arkansas Blues & Heritage Festival (formerly The King Biscuit Blues Festival). I usually help out with back stage security at that event but missed the last two years due to itinerary conflicts. Jerry and Gina Pillow put on a pre-fest dinner for a few out of town friends and after three years that event was especially fun. The festival from my back stage view was as usual exciting, fascinating, and exhausting.
On the way back to the Ranch we visited more friends in Livingston, Texas, the National Escapees Headquarters. While there, we learned that Mom had decided to make her move to the west coast RIGHT AWAY, so Marilyn and I backtracked to Georgia to help her. I, as the oldest sibling, organized the distribution and shipping of Mom's antique furniture and bric-a-brac to her children. That done, we saw Mom and my sister off in one direction, my daughter off in another, and United Van Lines off to four destinations. Marilyn and I then hurried back to The Ranch where my Board Member duties were hopelessly neglected, the water problems there nearly forgotten, and the weather ready to turn desert nasty.
Just to put things in perspective: The word "hurry" means different things to different people. Typical RVers like to travel between 100 and 300 miles per day with days or weeks of staying between travel days. It's not uncommon to take a year to circle the country. It's the journey, not the destination that's important. So traveling one, two to three hundred mile day after another is "hurrying" to an RVer. Two thousand miles in a week would be a snails pace to a long-haul trucker, but almost unheard of to an RVer. More on that later.
Marilyn and I had toyed for a year with the idea of selling her motorhome and obtaining a more substantial home base than our little shed at the Ranch. Since we had just inherited some really nice furniture, we decided to pick a location and set some roots. We had visited our friends Al and Molly Carson in Ryderwood, Washington summer before last and had been charmed by the idyllic little community 90 miles North of Portland. And only 70 miles from Elka and Mom's future assisted living. The states of Washington, Oregon, and Northern California have been my preferred territories for some time. So we sold Marilyn's motorhome, turned in our lot at The Ranch, emptied our shed into a U-Haul Truck and set out with Marilyn driving the Truck with her Jeep in tow and I driving my pickup and our Airstream. After six days of driving and $1,200 worth of fuel, we unloaded our truck into storage near Battle Ground, WA, right behind Mom's furniture the movers had delivered a few weeks before.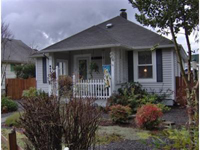 Now, Al and Molly were excited that we might soon become their neighbors but had previous plans for a Hawaiian vacation so couldn't be in Ryderwood when we arrived last Sunday. But they gave us permission to park in their driveway while we shopped for a house. Today, we made an offer on a nice little house in this remote little hamlet in the forest.
If we buy a house (and I think we will) we will divide our time between the house, shorter out and back trips with the Airstream, and longer winter trips to Mexico.
I need to say that Pepper (the dog) is fine with our change of plans. He's lived 10 of his 12 years in the trailer but is starting to need a boost up into the cab of the truck. So the easy life of a comfy home base appeals to him too.
You can view the progress of our current travels by viewing my Travel Log and our Google Map.
Happy trails,
Howard Replogle
December, 2007
Update: February 2008
Well, we got the house. We killed the escrow time divided between a return to Elka and Blaine's yard and a Thousand Trails park on the Longbeach Peninsula. The weather there was "stormy" to put it mildly, and we suffered from cabin fever as well as the inoperability of my internet satellite dish.
The escrow closed without a hitch and on January 12 we rented a truck and moved in. Our combined possessions had grown to fill a 24 foot van and even with Blaine's help, 12 hours of lumping was all that my 60 year old frame could take. But we love our little cottage and are having a great time fixing it up one room at a time. The Airstream fits in the yard and there is a park two blocks away where our RVing guests can drycamp. I'll add some pictures to my album once our decorative loose ends are tied up.
After ten years on the road and extolling the RV lifestyle for the duration in my newsletters, I hope I don't appear to be a turncoat or hypocrite of sorts. There are benefits and sacrifices to both ways of living and hopefully we will enjoy the more sedentary way as much as we did the more mobile. I (for one) moved into my trailer more as a means to avoid working and simplify my life than to travel. I lived in the SF Bay Area where I could scarcely afford my house even with a good job. Now that I have Marilyn to share the expense of a "real" house, and my social security is on the horizon, I'm more willing to afford such luxury. How I'll adapt to the increased complexity of my life and reduced road time is yet to be seen.
When I started RVing, I sold my house and moved into my trailer a whole month before I quit working. So something very novel about my new plan will be to live in a house, without having to put up with a job. I'm already enjoying that aspect of the change. Marilyn and I got along very well for the two years that we spent mostly in my little trailer, but I have to admit that our combined "stuff" was really starting to become a problem. When I was alone in there I had plenty of room for my clothes, books, music related paraphernalia, and computer. But as I had to give way to Marilyn's assortment of personal gear it got really crowded. So spreading out in the house has been a huge relief.
We still look forward to traveling in our Airstream, especially to Mexico in the winters as well as summer "out and back" trips on the West Coast. We'll see...
By the way: This community deserves investigation by others (especially RVers) seeking an affordable retirement community. There are about 300 homes here that presently range in price from $90K to $220K. Much less than a high end motorhome. And downright "cheap" for the West Coast. Google "Ryderwood, WA," or write to me.
All the best, Howard