Saving Ebi
A true story -

by Howard Replogle -

August, 2012
June 25, 2012 – Los Angeles
On June 25, 2012, a Spanish speaking family turned a little stray dog over to the South Los Angeles Animal Shelter, a high volume kill shelter in South Central L.A. We don't know much about this family. They had a young daughter, and they cared enough about this dog to visit her at least once at the shelter. And their landlord wouldn't allow them to keep the dog. We don't know how long this family had Ebi, but we suspect, not long.
We know even less about Ebi. The shelter weighed her in at 13 pounds, estimated her age at 10 months, guessed her breed as "terrier mix," assigned her #A1321074, and admitted her as a "stray." At some point the volunteer staff at the shelter started calling her "Ebony." She was very shy and afraid and after about 10 days without adoption, at risk for "euthanasia."
Monday, July 2, 2012 – Ryderwood, Washington and Gardnerville, Nevada
I first heard about Ebony on July 2, 2012 on Facebook via my sister Katherine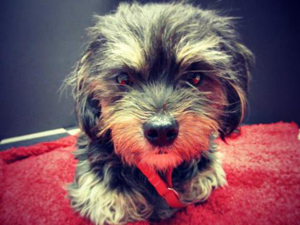 who shared a link on my page to a picture of a small shy female dog. Katherine got the link from a post by her friend Kat Simmons, a committed animal rescue advocate who Katherine knows personally. Ebi's cute face reminded Katherine of my Border Terrier dog "Pepper" who had died two years before. She knew that I missed him and thought she might tempt me with a potential new companion. And she did tempt me.
The link was to a page that belonged to the South L.A. Shelter Volunteers who desperately want to save the dogs there from destruction. That one shelter regularly houses over 200 dogs at a time and a fearful dog is not often given a second look by people shopping the pound. There was a palpable sense of urgency at the shelter over this dog because the 4th of July was just around the corner. Dogs get scared and lost on the 4th and the shelters up their kill rates to make room. The consensus was that Ebony's time might soon be up. And the Facebook thread was in the process of going viral.
I had been begging my wife Marilyn for two years to allow another dog in the house. Marilyn is a dog lover too, but overwhelmed by the grief when we lose them and was against either buying or adopting another. And Border Terrier pups, which I wanted, are a bit pricey at $1,400. But the face of this little waif was more than Marilyn could resist, so she softened. Little did either of us realize the adventure (and misadventure) that awaited us in our rescue effort for this adorable but at-risk pup.
Tuesday, July 3, 2012 - Facebook
So on July 3, 2012, I commented on the volunteers' facebook thread, "I'd love to adopt her. But I live in Washington State. Is there any way to get that done?." That post made me an instant hero to followers of the page and the suggestions and advice came pouring in. . . "Not a problem." "Rescue groups transport dogs all of the time." "It will be easy once she's out of the kill zone." "We can help." "Yayyyyy!" . . . was the crux of the responses. And the networking began in earnest; to stay the execution and put little Ebony in our hands. This turned out to be much harder to coordinate than one might think.
First, I called the shelter. "Yes, she's still here. No, we can't tell you any more about the dog. Sorry, all adoptions must be in person," was about all the help I could get. A later call and a long wait to talk to a supervisor did get my name added to file #A1321074 as an "interested party." We then investigated an organization of truckers that a Facebook commenter recommended. They transport rescue dogs via volunteer big-rig drivers for an administrative fee of $25. But they wanted a minimum of two weeks notice to get started and lots of information about the dog up front, which we didn't have. Much of the information didn't even exist yet. So we checked into commercial airline transport. I guessed that a $300 plane ticket would be a relatively cheap solution. No luck there. Commercial transport demands proof of immunizations, and won't take a recently spayed dog, which Ebi would be, per the shelter requirements. Plus the dog had to be delivered to the airport. The shelter wouldn't help with that and we had no one who would. It was looking like a 2,000 mile round trip to L.A. and a few days stay there was the only real solution. And it would have to be by car since the airlines wouldn't take a post-op dog on-board either. And they required a vet certified health certificate. I could see potentially huge expenses on the horizon.
At this point I backpedaled. A woman in L.A. watching the facebook thread had said she would take Ebony but didn't have the money. The adoption fee looked like it would be under $100 including the spay operation, so I offered to pay the fee if this woman would take the dog. That would at least save the dog. . . and get me off the hook. Silence. And I would be a heel to flat out renege.
Wednesday, July 4, 2012 – Elka and her friends
At about this time, my daughter Elka got a couple friends of hers that live in L.A. involved. One, Jason Reid, told Elka that he was driving up to Berkeley on Saturday and after a call from me (and an emailed photo of the dog) agreed to provide transport as far as Berkeley. . . on Saturday or Sunday. The other, Samantha Starr made a Facebook post imploring her friends to find someone who could pick this dog up at the shelter. By now, Marilyn and I felt committed . . . at least to a drive to Berkeley. Our rationalization was that we might squeeze in a visit to my sister and mother's town in Nevada on the way back. And we could stay a night or two with my friend Jim Rinehart in Sacramento en route. That would be fun.
Thursday, July 5, 2012

- Los Angeles
A friend of Samantha's named Matt Seng, simultaneously responded to her Facebook post and acted decisively. "Which shelter? - I'm on my way." Matt is a marathon runner with a dog walking business. As it turns out, there was an important misunderstanding between Samantha, Matt and me, which would be a huge problem later. But for now it looked like we had some real hope for saving this dog. I instantly became the coordinator of the operation with phone calls and emails to Elka, Samantha, Jason, Matt, and Jim Rinehart. Matt sent us a photo of himself with Ebony at the shelter and declared her "rescued!" Ebony would be spayed on Friday morning, July 6, and released to Matt that afternoon on my behalf. I reimbursed Matt the $65 adoption fee with PayPal. Cheers all around. I asked Matt on the phone how long he could keep Ebony for us and he replied, ". . . as short a time as possible, I already have three dogs at home." I thanked him and assured him that I had transportation almost worked out.
Friday, July 6, 2012

- Medford, Oregon
Marilyn and I packed our clothes and Pepper's old crate and drove 400 miles to a hotel in Medford, Oregon. At this time we didn't know whether we would meet Jason and Ebony in Berkeley on Saturday or Sunday since Jason's plans were not yet firm. So we had to leave home on Friday in case we needed to be in Berkeley on Saturday. I asked Jason and Matt via emails to coordinate their exchange of Ebony and gave each the other's telephone numbers and email addresses. But that ball was dropped.
Late Friday afternoon, on his way to pick up Ebony, Matt called Samantha to ask where to deliver the dog after he picked her up. (?) This was the misunderstanding. We all assumed that Matt would take her home for a night or two. But Matt was not willing to do that. Jason was unwilling to take her until he was en route to Berkeley, which would now be on Sunday instead of Saturday. Samantha wasn't allowed by her husband to take her. And according to Matt, Ebony couldn't be left at the shelter after spaying. So Samantha went to work on her telephone.
Matt went ahead and picked the poor waif up at the South L.A. shelter late in the day. In addition to her shaved belly and two inches of sutures, she was filthy and her hair was matted. Marilyn and I were in a Pizza Hut in Medford, Oregon with a cell phone, frantically trying to find a boarding kennel for this dog in L.A. . . . right now. And so was Samantha. We were all hitting brick-walls because Ebony had just been spayed and given her basic shots, and no one would take her. It was hot as hell, all up and down the West coast. And the tension was getting to us. Just as Matt was about to turn Ebony over to ANOTHER SHELTER, Samantha found an acquaintance she had met at a dog park named "Simone" who would take Ebony for two nights for $100. "Done." But Simone was suspicious. This whole affair didn't smell right to her. So when Matt dropped Ebi off, Simone was reluctant, but took her in. And Ebi was now sick, in addition to having had major surgery that morning. Marilyn and I were momentarily relieved but road-weary and stressed-out over this complicated, crazy, skin-of-the-teeth, rescue.
Saturday, July 7, 2012

- Sacramento
Marilyn and I drove 300 miles to Jim Rinehart's house in Sacramento. Jason asked that Ebi be delivered to him before his drive to Berkeley but we had no way to accomplish that. So we begged Jason to pick-up Ebony at Simone's on Sunday morning . . . and while he was at it, pay her the $100 that we owed her. We would of course reimburse him. Simone, in her suspicion of the whole operation was refusing to release the dog to anyone except the rightful owner, which obviously was impossible without us driving to L.A.. Which in fact, we were now anticipating having to do. So Samantha created a ruse for Jason to pose as the owner. I'm not sure how exactly all of that was accomplished. I had never met any of these people or knew for sure what they were saying to each other. And we couldn't contact Simone for fear of exposing Samantha's ruse.
It was crazy hot in Sacramento at 103°F but we had a pleasant visit with Jim and Judi while we planned alternate strategies for our rescue operation. And we told my sister and mother that our tentative visit would depend on the dog's condition. We feared that the surgery and hand changing and travel and heat would probably be hard on Ebony and we might need to sprint for home. We were sorry for our lack of certainty, but that was the best we could do in the circumstance.
We decided, and Jason agreed, to meet at an I-5 rest area just South of Tracy so we wouldn't have to drive all the way to Berkeley for the dog exchange. It would still be another 100 miles each way for us, but we would have much less traffic, so that is what we decided. And Jason, thankfully, would pick Ebony up at Simone's.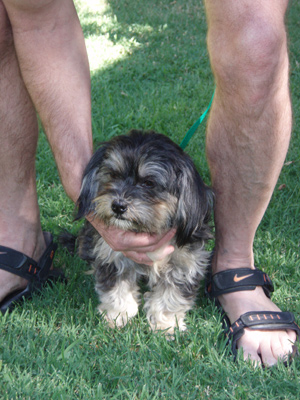 Sunday, July 8, 2012 - Tracy, California
There was a little more confusion over telephone calls and numbers to coordinate the exchange, but on Sunday afternoon, in a blistering hot freeway rest area, a very sick and bewildered little dog was handed over to me by Jason's mother and traveling companion, Susan. Ebony had slept most of the way in Susan's lap, and "had a cold." She could walk on a leash, but barely. And she refused water. We shook hands all around, I passed Jason $120 for Simone, a cardboard box, and some gas, and we headed back to Sacramento.
Back at Jim's, we enjoyed our new friend, sick and frightened though she was, but decided that a visit to a vet was definitely in order. We could seek an unknown vet the next day in Sacramento, or take her to my sister's highly recommended vet in Nevada (another 100 miles) and please my mother and sister with a visit to boot. So first thing in the morning, we headed to Nevada.
Monday, July 9, 2012 – Pneumonia
I get elevation sickness. And I wasn't thrilled about exposing Ebony to yet another stressor. But the drive went quickly and we had set up camp in my sister's guest room and had Ebony at the vet in no time. He pulled foxtails out of both ears, x-rayed her lungs (double pneumonia) and dosed her good with injectible antibiotics and something to bring her temperature of 104° down. Her weight was down to 11 pounds. He thought she'd feel better in the morning and hoped she would eat something. If not, "bring her back." Cha-ching. $300
Tuesday, July 10, 2012 – Gardnerville, Nevada
The next morning we returned Ebony to the vet, unimproved. So he hospitalized her with intravenous fluids and drugs and said we could check on her the next day. Hopefully, she would live. But he also ordered a distemper test which would take two or more days. Back online, we realized that distemper would mean the end of Ebi. We checked on her the next day and she needed another day on the drip. Plus we still needed to wait for the distemper test. So we couldn't have her back until Thursday morning. Cha-ching. $1,000
Wednesday, July 11, 2012

- "Ebi" Japanese for "shrimp."
The distemper test came back sooner than expected. Negative. More cheering.
At my sister's we were kicking around names for Ebony. We thought Ebony was made-up by the L.A. shelter volunteers and we wanted something more thoughtful. At some point my sister suggested "Ebi," Japanese for "shrimp." We all liked it, it sounded kind of like Ebony, and so that's what we named her.
The intensity of our concern over Ebi didn't exactly make for a relaxed visit with my sister and mother. In fact, on Wednesday afternoon, it became evident that our welcome had expired. So we moved from my sister's guest room to a hotel for the night, just down the road from the vet. More $$.
Thursday, July 12, 2012

- Reno and Beyond
We arrived at the vet ready and anxious to hit the road home. Even better, Ebi was much improved. She still tried to bite anyone reaching into the crate for her, but she scarfed down a good meal right in front of us and her temp was down to 100°; within the normal range for a dog. But the vet didn't like the looks of a couple of ultra-sounds of her belly and feared that her spay surgery had been botched. And was likely infected. He thought she could make the two day drive to Washington, but that we should take her immediately to a vet at home, probably for a re-spay.
We drove 350 miles to a hotel in Medford, OR
Friday, July 13, 2012

- On the Road
Ebi was a good traveler. No trouble on the road. No potty accidents in the hotel. And she seemed to be really warming up to Marilyn. Not so much to me, but once on a leash, she would troop right along with me.
We drove 350 miles to home in Ryderwood, Washington.
Saturday, July 14, 2012

- Home Again
We found a good vet on Friday as we traveled and took her in on Saturday to have the vet look at what was left of her uterus. The exam was inconclusive and the vet suggested we could drop another $500 on a specialist referral or $500 on exploratory surgery, or since she was still improving, wait and see. We're still waiting, but she seems fine to us and also to the vet on a return visit. More money, but not so bad.
Here's my rough accounting of our costs for the adoption:
| | | | |
| --- | --- | --- | --- |
| | | Miles | |
| Date | Event | Traveled | Cost |
| | | | |
| 7/2/2012 | Facebook shares begin | 0 | $0 |
| 7/5/2012 | Matthew Seng arranges adoption in person | | $65 |
| 7/6/2012 | Matt delivers Ebony to Simone for boarding | | $100 |
| 7/6/2012 | Drive to Medford | 400 | |
| 7/6/2012 | Quality Inn - Medford | | $90 |
| 7/7/2012 | Drive to Sacramento, CA | 300 | |
| 7/8/2012 | Jason picks Ebony up from Simone in LA | | |
| 7/8/2012 | Drive to Tracy to pickup Ebi | 200 | |
| 7/9/2012 | Drive to Gardnerville, NV | 100 | |
| 7/9/2012 | Carson Valley Veterinary Hospital | | $300 |
| 7/10/2012 | Admit to vet hospital | | $1,000 |
| 7/11/2012 | Quality Inn - Minden, NV | | $70 |
| 7/12/2012 | Drive to Medford | 350 | |
| 7/12/2012 | Quality Inn - Medford | | $90 |
| 7/13/2012 | Drive to Ryderwood | 350 | |
| 7/14/2012 | Vet in Centralia | 60 | $150 |
| | | | |
| | Travel by car. | 1,760 | $880 |
| | | | |
| | Total Costs | | $2,745 |
| | | | |
Conclusion and a happy ending:
This adoption obviously cost WAY more than we expected. Buying a pure-bred dog would have been cheap by comparison. On the other hand, we probably saved her life.
There are several built in catch-22s for adopting a dog from a distance. One is that the shelters won't work with people on the phone. And since they require spaying and neutering and don't give the shots until the dog leaves, the boarding kennels and transporters won't immediately take such a dog. Add the sense of urgency in kill-shelters to save the dog's life, and you get a nearly impossible situation.
So. My advice, if you want to adopt a dog, is be prepared to go to the shelter yourself, multiple times, to get it done. We would have been well advised to adopt locally, and to donate some of the fortune we wasted on travel costs to the L.A. Shelter, than to have done it the way we did.
Talk is cheap and that is mostly what Facebook posts are. Talk. Many of the well-meaning people on that Facebook thread didn't really know what they were talking about. Then again, it was my mistake for believing them.
This was a "pig in a poke," choosing a dog sight-unseen the way we did, and the whole debacle could have ended badly. But we got lucky. Ebi is turning out to be a really great dog and we'll still love her when we've forgotten all about the cost of saving her. Though we'll probably remember the ordeal. She's fully warmed up to me and is far and away the most affectionate dog I've ever owned. We think that she may be a pure-bred Havanese, not a "terrier mix" at all, and we're seeking an authority to confirm it.
Thanks so much for the generous help of Katherine Replogle, Kat Simmons, Elka Sundwall, Samantha Starr, Jim Rinehart, Judi Smith-Marschel, Matt Seng, Jason Reid, Susan Reid, Dr. Lance Gorrindo, and the Volunteers at the South LA Animal Shelter! We love you guys!!
Ebi, at the park!!
Visits to this page since 8/20/2012 =