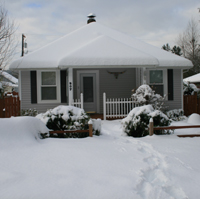 Welcome to my world
Howard's Trip #1 - August, 2009
In February, 2009 I wrote in Roadstory News # 12, "I suppose the nature of this newsletter will now morph into something different as we spend more time at home." Since we're now off-the-road more than on, that time has come. So I've changed the name to 'Howard's Trip' and will write more about my activities other than RV travel. Right now, I'm spending a lot of time in my woodworking shop. See my 'Essays and Files' section for my travel letter archives.
I've been handy all of my life, and even built a house in the 70's but most of my work until recently has been more of a carpentry and handyman nature than what you might call fine woodworking. When we
bought our house in January, 2008 and parked the Airstream in the yard, I started accumulating what I consider the essential tools of home ownership. The space I have available for a shop is a walled off section of our garage, but by putting the big things on rollers, I can still accomplish quite a lot in my 11 X 24 foot space.
I'd really like to design and build fine furniture. And maybe I eventually will. But hardwood is very expensive, my tools are as limited as my space, and I have not yet mastered the necessary skills. So for now, I'm building nice boxes. I think of boxes as miniature furniture anyway and I can labor intensively on a project with a minimal commitment of materials. The more I do, the more I learn. And I start a new project often enough to keep from getting bored. Maybe I will even sell some boxes and make a little money to support my hobby. But the main reason I'm doing this, is that I just love this kind of work. I get into a kind of 'flow' in my shop much like I have experienced drawing and painting, playing blues harmonica, rock climbing, writing, and playing chess, where I momentarily lose my sense of time and self. Marilyn says that I'm at my happiest when I'm solving a woodworking problem. I think she may be right.
So I've started out with some projects from a box making book by Doug Stowe and have progressed to my own designs, some with unique solutions to common problems. I make anywhere from one to four boxes at a time. In power-tool woodworking, most of the work is in the setup, so by making a few of one design, I can gain a little economy of scale. Some processes though, especially sanding and finishing, can become tedious when more than a few are made, and I prefer to avoid work that feels anything like a factory.
My first box is my take on one of Doug Stowe's designs. My
projects which use someone else's design are usually recognizable as theirs, but I always change things; dimensions, wood species, finish, or a combination of those. This small box is of red oak, with mitered corners reinforced with poplar splines, a birch plywood bottom, a small chamfer around the base and a maple top. I cut these in such a way that the grain flows all the way around the box, and then experimented with various stains and oil finishes
Next is a pair of keepsake boxes about ten inches long of walnut and maple. The corners are 'lapped' and I altered the shapes of the tops and bases to make them unique.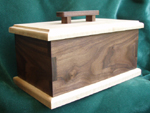 I shaped the pulls to mimic the curves of one and angles of the other, and applied a natural rubbed Danish Oil finish (a blend of oil and varnish) to both.
I love the look of oiled walnut and nothing could be easier to apply; paint it on, wipe it off, and buff... for a beautiful satin finish. The lift lids on all of these boxes so far have a rabbeted edge that keeps the lids centered on the box.
Next is an adaptation of a pencil box with a sliding lid. I liked the look but I made it much bigger than you'd need for a pencil box and made it of solid walnut. The trick with solid wood boxes is to size the bottom and top with a loose fit to allow for expansion and contraction due to changes in temperature and humidity. I love the functional look of finger joints and I make mine with a table saw jig that I also made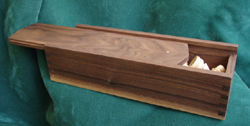 myself. I cut these as well so that the grain would follow all the way around. I particularly liked this one because of the lighter sapwood border around the bottom. The brass pin on the lid provides a stop to position the lid when it's closed and keep it from sliding all the way off the box when opened. This one housed a set of chess pieces until I gave it to my sister Katherine for her birthday.
This next item isn't a box but it's small
and well made of wood and it's something I wanted for myself. I have two iPods and use them to carry my music to various music systems in our house and travel trailer. It's always bothered me to lay them on a table or some other piece of furniture where I couldn't see the monitor without picking them up. The commercial docks are expensive for what they do and they look like a mass produced piece of plastic. So I made this stand to accommodate the downward exiting iPod
power cable and display my iPod in a more tasteful and functional manner. I used oak that I reclaimed from a battered coffee table that I bought with pocket change at a goodwill store, and beautiful old vertical grained douglas fir that I recovered when I rebuilt our front porch. The stands are small so I made a bunch of them with various differences in design, and finish. They will also prop on their sides to use for iPhones and other small electronics. If I sell my work, this would be a good candidate.
You can see a lot of my shop in this picture. From left to right, planer, belt/spindle sander, drill press, table saw. My router table isn't visible but it's pictured in my last newsletter. I'm just beginning to appreciate the capabilities of this useful tool. My bit collection is growing, but they are expensive!
Next, I sought a source of exotic hardwoods and found it in Crosscut Hardwoods of Portland. What a find! And some of the more common species cost little more than the red oak and maple found at Home Depot. I can build several boxes out of a single 1"x6" by six foot board. In two trips to Portland, I've carried home samplings of Walnut, Bubinga, Ebony, White Oak, Bloodwood, Ipe, Rosewood, Ash, White Oak, Purple Heart, Jatoba, and Tiger Wood (not to be confused with the pro golfer).
My next project was a humidor design with an Asian flair from one of my woodworking magazines. I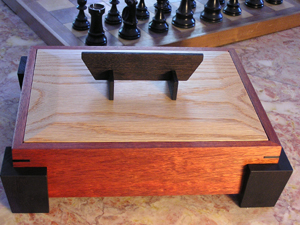 omitted the cedar liner and humidifying components and just made the box. I used blood wood with mitered joints with ebony splines. The lid and bottom are red oak and the legs and pull handle are ebonized walnut. The stick of blood wood I started with was terribly twisted and I did a lot of preliminary work just to prepare the stock. But it's beautiful red wood with golden highlights and worth the extra effort. To ebonize walnut, you combine rusty iron with vinegar. Let it sit for a couple days and paint it on. When the rusty vinegar combines with the tannin in the walnut, it turns the walnut black almost immediately. When it dries, it looks almost exactly like ebony, a much more expensive wood ($87 a board foot for small pieces, to be exact). Nice trick. The vinegar raises the grain in the walnut, but after a couple of sandings and re-applications, it's ready to finish. The splines are real ebony. The box pictured is finished with Danish Oil but I also did one with shellac. Marilyn likes shiny things so I gave her the shellac and one of the others to my friend Jim when he visited recently.
This next one is my own design and my personal favorite so far. I call it a dresser box. The sides and bottom are tiger wood and the top is jatoba with a tiger wood frame. The miter joints are splined with jatoba keys. Everything worked well when I built this box, but
especially the tiger wood. It was very compliant wood to work and the finish is down right 'buttery.' I especially like the complex shapes in the lid of this box. Do I sound like I'm talking about wine? The space for wood movement is completely hidden from view, inside and out.
My next design is my first try at a hinged lid and my ideas worked even better than I expected. Quality butt hinges are expensive to buy and I don't particularly like the
more ordinary kind. I've seen boxes that use a brass pin for a hinge so I decided to give that a try. I lucked into finding some tubing with an inside diameter equal to my eighth inch brass rod so I was able to make bearing sleeves for a more sophisticated hinge mechanism. I like to see how things work so I deliberately extended the hinge beyond the sides of the box. I call this my 'bedside' box. The box is finger jointed and ebonized walnut with tapered sides. The lid is a piece of purple heart hardwood with the grain oriented front to back The finish is my usual natural Danish Oil. I think the purple and black has a sexy, bedside look to it. The grain orientation allowed me to put the hinge pins across the grain for extra strength.
Well, I have more in the works but that's all I've finished so far. As I mentioned above, I don't know if I'll wind up selling these or just keep giving them away. I'd have to charge a LOT to justify all the work I put into them, and then I wouldn't have as many to show and give to people. Maybe I'll go ahead and display them somewhere for sale but price them high so when someone buys one, I'll feel better about letting it go.
I don't have a place for comments here but I'd still love to hear from you if you care to share your thoughts. So if you're inclined to comment, ask a question or just say "hi," please send me an email. I love to hear from old friends, new friends, fellow woodworkers and travelers.
All the best,
Howard Replogle