1998 Airstream Safari
SOLD
******************* SOLD - September 10, 2016 *******************
1998 Airstream Safari - 25 foot, "Six Sleeper" model. Set up for off-the-grid, adventure travel.

GVWR – 6300 lbs. Dry weight was 4750 lbs. when it was new. It weighs a little more now due to upgrades but still has plenty of room for provisions. This one-owner (non-smoker) trailer is well used, but well cared for. Kept under a carport for the last 9 years.

Rear corner double bed, rear corner bath with shower, street side dinette (that converts to a small bed), curb side galley, front couch that converts into a bed. 39 gal. freshwater, 39 gal. greywater, 33 gal. blackwater, 30 amp converter, 6 gal. water heater, 31,000 btu furnace, 10 in. brake drums, 14 inch wheels, microwave, stereo, awning, Penguin A/C with heat-strip, two burner cook top. No oven.

Upgrades include:
2 large tiltable solar panels and digital controller. Replaced carpet with laminate flooring and bathroom tile. Two Fantastic Fan vents. Single 12V battery replaced with two 6V. golf cart batteries in custom frame-mounted aluminum box. The trailer was raised 2 1/2" with custom made brackets welded to the axles for improved road clearance. Installed undercarriage spare tire bracket and spare wheel and tire. Stripped graphics and clearcoat and machine polished most of the trailer. Painted interior and changed interior color scheme to beige and red/orange.
Added large interior mirror and aluminum back splash behind cook top. Permanently installed a catalytic heater. Replaced all curtains with day/night shades and fabric valences.
Added a Reverse Osmosis (RO) drinking water system. Added two custom made variable speed fan controllers to the galley and bathroom fans. Custom stereo system. Small inverter.

Repairs include:
Replaced stock mattress with high quality, custom made mattress. Replaced seat cushions. Replaced refrigerator. Replaced water heater. Replaced toilet. Replaced water pump and added accumulator tank. Replaced A/C shroud.

Spare parts included but not installed:
Shock absorbers. Brake pads. Brake magnets. Extra tire. Many others.

Delivery on West Coast of US or Canada negotiable.
Ryderwood, WA
three six zero 295-0925

August, 2016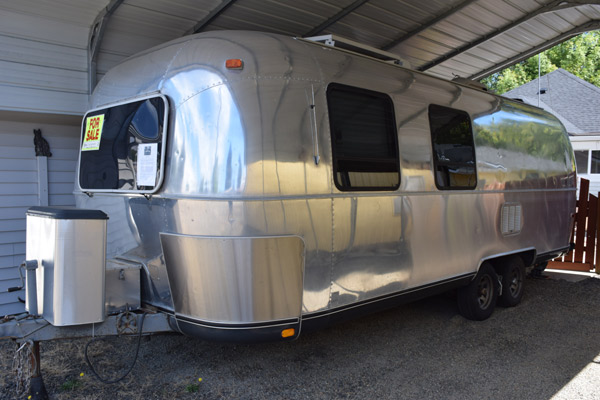 As it looks today. You can see where I quit polishing due to tendonitis. Want to finish it? I can tell you how.
It's easy to see where my arms gave out when I polished this side. You can also see one of the two solar panels on top.
I had a bicycle rack on the back for a while and left some of the attachments in place when I stopped using it.
I made this exterior battery box to house twin 6V golf cart batteries.
I raised the trailer about 2 1/2 inches for better ground clearance in Mexico. I did it by having custom brackets fabricated, removing the axles, welding the brackets in place, and replacing the axles. Works great! Photos of installed brackets available.
Plumbing protected with a DIY skid plate which I made somewhat obsolete when I raised the trailer. Wheel chocks are shown here too.
A slight scrape in the right rear corner from a road sign in Mexico.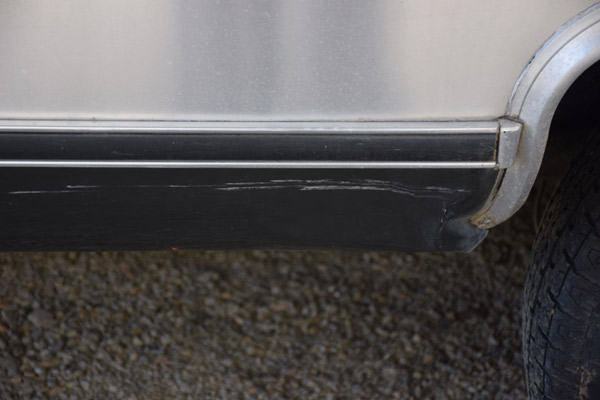 Oops. This shows a minor ding in front of the left wheel well.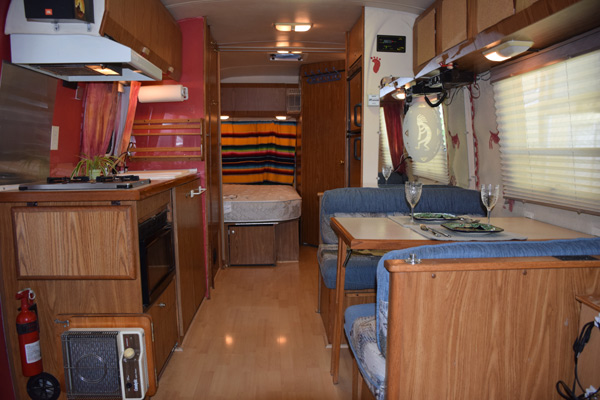 Interior cabin, looking back.
Galley and view out through the screen door of my garage and a piece of OSB.
Galley showing the aluminum backsplash and microwave. No oven.
Galley. The stove hood has a digital fan controller that a friend designed and I built. The bathroom has one too. You can turn them way down to be less obnoxious and use less power. Some lights are deliberately low wattage for power conservation while camping on Mexican beaches. Just change the bulbs if you want more light.

Another galley shot. The sink cover I made from a cutting board is much better than the wood ones it came with.
This is a Reverse Osmosis water filter that I installed under the galley sink. Allows us to drink Mexican tap water.
Dinette makes into a small bed.
Interior cabin view from the back.

The couch makes into a full sized bed.
I replaced the carpet with laminate flooring. Pergo Beech I think. Much cleaner than carpet!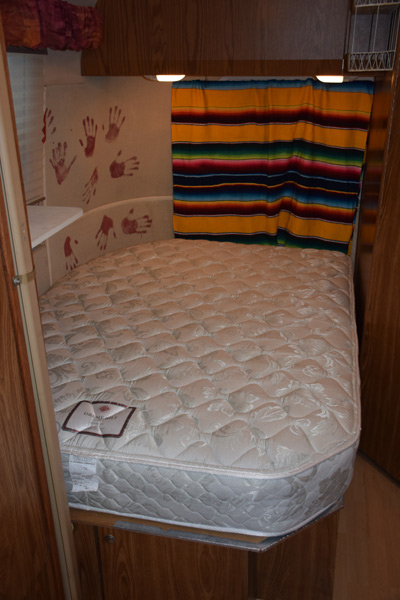 The corner bed is long but a little more narrow than a full sized. I had this custom mattress made to fit. It's much better than the one that came with the trailer.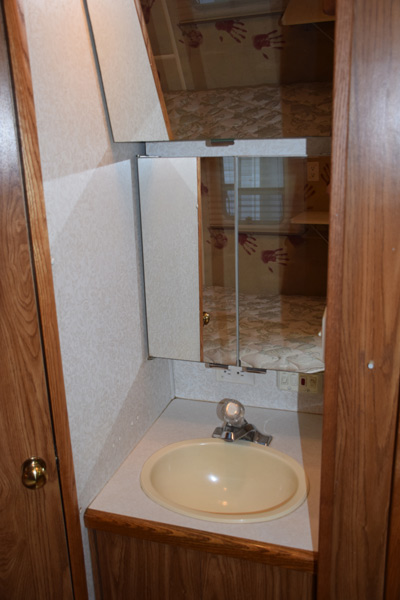 Washroom sink, medicine cabinets, and door to the head.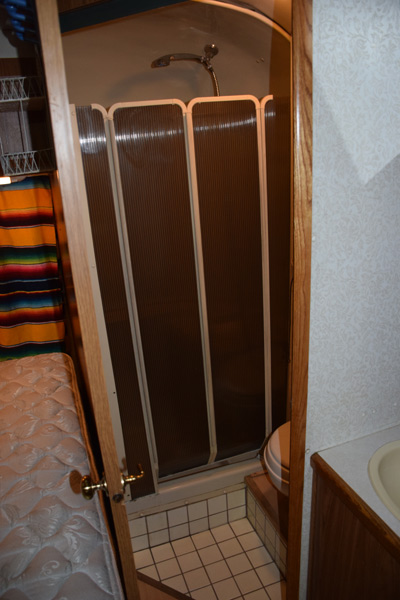 View into the head. I added the tile floor.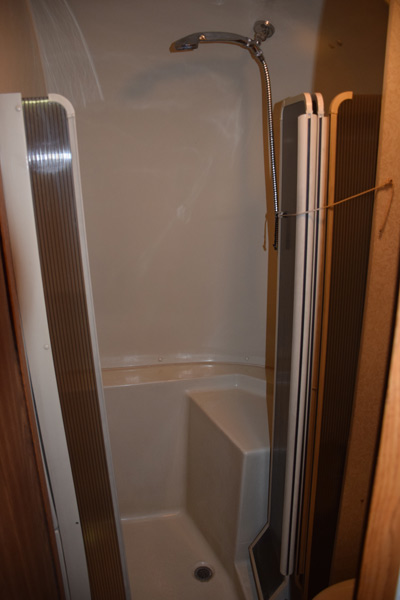 View into the shower.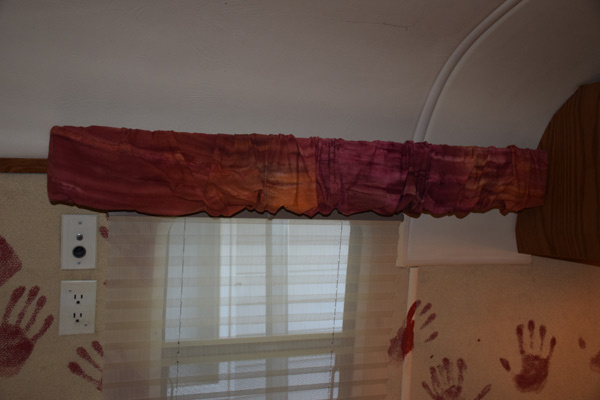 Custom valences and more cave paintings.
I used a Mexican blanket on the back window instead of day/night shades because I never opened that one.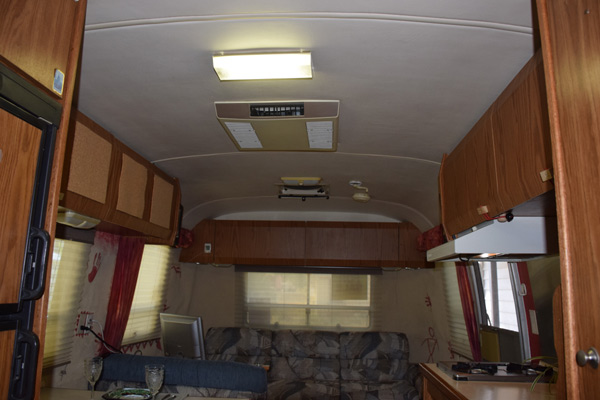 Ceiling shot, back to front. Shows A/C, one of the two Fantastic Fan vents.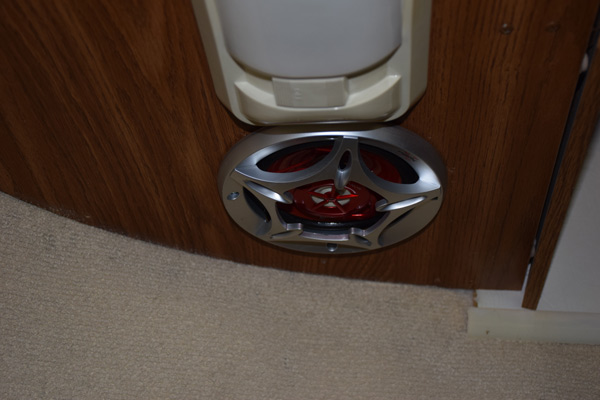 Upgraded built-in speakers.
The original cabinet latches kept breaking so I designed one that is functionally better if not more attractive.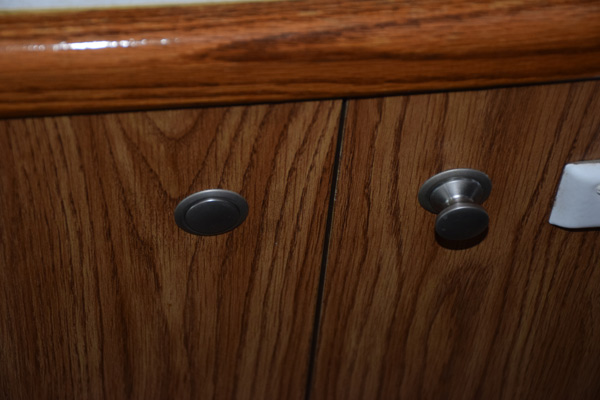 The spring in these clever combo latch/pulls kept failing too, but I created a simple fix that will outlast the originals. Remind me to show you how.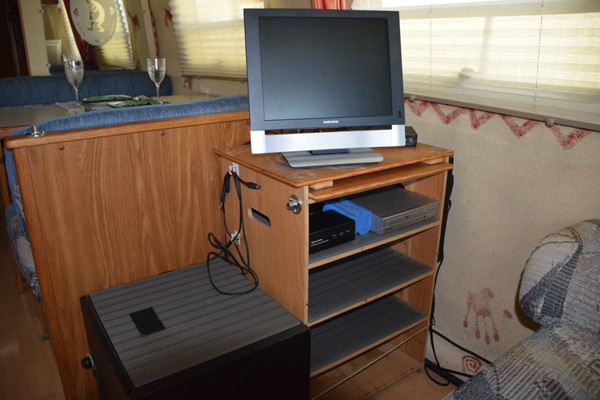 I made this cabinet for audio components, but it also serves as general stowage. The black thing on the left with a grey top is a 12" subwoofer.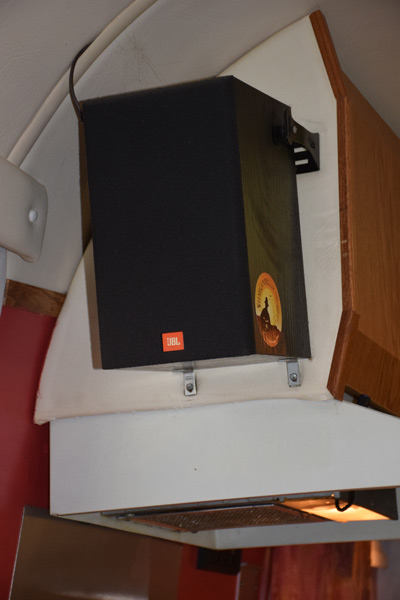 One of the added stereo speakers. The subwoofer is 12".
This is a catalytic heater I installed that swings 180°. Very efficient!
This is a mostly closed day/night shade. Nice upgrade from the curtains the trailer came with.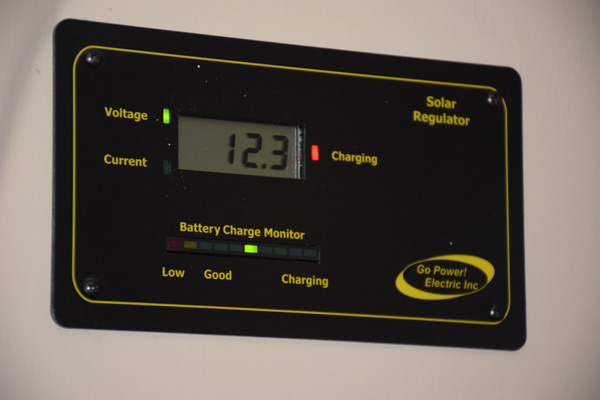 Digital solar controller.