Roadstory News #12
Howard Replogle's occasional newsletter
February 2009
I'm writing this edition from Borrego Desert, California where we're parked with old friend Paul Martin and new friend Michael Depraida. Paul is a freethinking musician and Michael is an Airstream motif artist. (see Postcards From Earth and Silver Bear) We're all in Airstream trailers and we serenade the desert night with Paul's collection of exotic drums.
Marilyn and I returned to the U.S. from our winter trip to Baja a couple days ago.
I've avoided making my newsletters "destination centric" in the past, but Baja is so special that I'm going to write a little about it. Especially for those who have never been. It's an amazing place, quite different from mainland Mexico where I've traveled extensively. Baja is spectacularly beautiful. If it were in the U.S., it would probably be the countries biggest national park and deservedly so.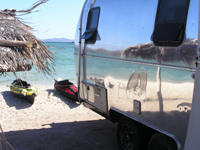 It lacks the cultural attractions of the mainland, and accessible amenities (like groceries) were limited in the places we went, but the sea kayaking was well worth the inconveniences. The peninsula is so vast that we found it impossible to capture the grandeur and feel of the place in photos. But we did capture a more intimate perspective. The road was overall better than I expected. But there are still plenty of narrow sections which are a "white knuckle" experience when passing opposing big rigs. We thought the best hiking was near Catavina, an inland cactus garden among granite boulders of Cardons, Boojum trees, Elephant trees, and other indigenous varieties found only in Baja. See details of our stops on my travel log.
We spent most of our time on beaches, where we dry camped and paddled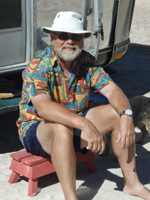 our Folbot kayaks. Our favorite spots were the little sheltered bays within the much larger Bahia Concepcion on the central east coast of the peninsula. The paddling ranged from glassy water strolls among remote islands to watch the colorful fish and other sea life through the crystal clear waters, to real struggles against headwinds and white caps to get back "home" after wandering many miles from wherever we were currently camped.
We regularly paddled five to twelve mile day trips of magnificent territory with only rare sightings of another human. We enjoyed up close views of sea lions, dolphins, sting rays, and beautiful birds. We didn't go all the way to La Paz and the Cabos, so the sea was never quite warm enough for snorkeling. We timed our trip based on the Washington weather we were escaping rather than the temperatures in Baja we were seeking. The weather was improving as we left. I vowed to come equipped with a wet suit if we visit again in December through February. I think some fishing gear would have added to our enjoyment as well. Though we did eat a lot of local fish and shell fish, purchased from the beach vendors and given us by the Canadian and American friends we made. Special thanks to Jim Vise of Oregon for sharing his catch.
I met an extraordinary character at Bahia de Los Angeles just after we arrived there: We told our new neighbors that we were interested in paddling there and they told us that we would have to meet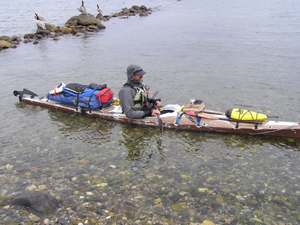 "Kayaker John" (last name; "Weed"). I didn't think much of it until I saw a tall bearded man packing his boat at the waters edge for an obviously extended journey. As we talked, I learned that he was heading out that afternoon for a FIVE WEEK paddle around a fifty mile long island which must have 150 miles of shoreline. I was awestruck! In fact I still am. He mentioned that he paddles every Easter across the Sea of Cortez (!) to Kino Bay. That same afternoon, I watched a group of eight teenaged beginners set out for a week long trip. I was fascinated with the problem solving prowess of Kayaker John and the adventurous spirit of this group of kids. We watched them both with binoculars as they disappeared into the fading light.
For the RVers reading this: I installed a small Reverse Osmosis (R.O.) water filter in the Airstream this year in order to drink the Mexican tap water and avoid the inconvenience of schlepping bottled water. The filter was specified to waste water in the filtering process at a ratio of 4:1, but it wasted so much more due to low water pressure (maybe 15:1) that I re-routed the waste water back to the fresh tank where it could be used for bathing, dish washing, etc. It then worked great and we've enjoyed good drinking water throughout our trip with no waste at all. We can easily camp on a beach for 8 or 9 days with 50 gallons of Mexican tap water, solar power, and no other services at all. The unit I used is a Watts 5 stage filter that cost $200 online at Costco and installed under our sink. The only downside is listening to the water pump grunt away as it forces water through, but it can be simply turned off when we're home or sleeping.
My lifestyle has changed considerably over the last few years. First from teaming up with Marilyn and then from settling in to our house in Ryderwood, WA (see previous newsletters). We're still traveling and writing about it here, but most of the year is now spent in a more stationary (and conventional) habitat. I suppose the nature of this "newsletter" will now morph into something different as we spend more time at home. Marilyn has done beautiful work with our yard and her vegetable garden. I rebuilt our front porch and putter in my new (though modest) woodworking shop.
We hear from our neighbors and good friends Al and Molly Carson that our house has withstood the winter with minimal effect. So hopefully we can get it back into service next month by replacing a few rain gutters.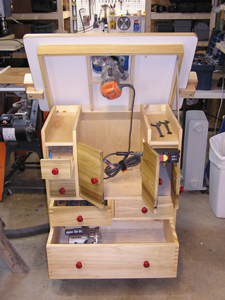 The hiking and biking opportunities in the vast forest surrounding Ryderwood continue to attract us. Though it's quite steep for biking. I love my woodshop and an 87 year old house is a never ending source of problems in need of creative solutions. It's also great to be so close to my daughter and grand kids down in Battleground. My Mom, Peggy Blanchard gave living with them a six month try and then opted instead for one of those apartments and full service communities that they have for old folks. So she's in Gardnerville, Nevada just down the road from my sister Katherine and is thriving on the social activities her new home affords. It's a bit farther for us to visit but we get to see Katherine and Roger too.
I continue to maintain a website and perform de facto leadership duties
for the Escapees RV Club Freethinkers sub-group (see www.skpfreethinkers.com) It was much more work than I expected when I started it, but has settled down to a manageable task after getting it organized and filtering out some troublemakers. It just passed the 200 member mark and has proven useful to RVers seeking other freethinkers. In fact, the creation of this group was such an interesting experience that I've considered writing about it. It might make a good article for Escapees Magazine. For those who join and use our website, the story is self evident.

Let us hear from you! My website has led to some fun reunions with some long lost friends, so if you've been out of touch, there's information available to contact me in "contact." And don't miss the rest of my photos!

Happy Trails,
Howard Replogle (and Marilyn Clark)